All About Birthstones - Birthstone Jewelry Colors Chart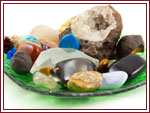 When I was a little girl, I always wanted to be born in July. Why? July had a ruby for its birthstone. Rubies were red and oh-so pretty. Or perhaps April. Like my younger sister. April is the month that boasts a diamond as its gemstone - and you know what they say about diamonds. They are truly a girl's best friend.
Birthstones have an interesting history. Most sources agree that they got their start in the Middle East, where the sometimes powerful properties inherent in gemstones have long been acknowledged. Historians believe that the first written record of gemstones being used to symbolize something significant came from the Old Testament Book of Exodus. The breastplate of the High Priest, Aaron, had twelve gems, one for each of the tribes of Israel.
As time passed, gemstones became associated first with the Zodiac and then with the months of the year. The custom of wearing birthstones seems to have originated in Poland during the late Middle Ages or Early Renaissance.
Over the centuries - and throughout different lands, there have been different gemstones that have been set aside as birthstones. On August 12, 1912 the American National Retail Jewelers' Association decided on a list of birthstones for each month. They added to or changed the list according to what was most commercially viable, acccording to most reports, and not necessarily what was traditionally deemed the proper birthstone for that particular month. In 1938 the American Gem Society adopted the following list for usage among its members.
So, without further ado, here are the modern birthstones, listed by month and Zodiac sign.
Birthstone Charts and Color Lists

Birthstones by Month

Month
Birthstone
Color
January
Garnet
Dark Red
February
Amethyst
Purple
March
Aquamarine
Pale Blue Green
April
Diamond
Clear
May
Emerald
Deep Green
June
Moonstone or
Alexandrite
Multicolor
July
Ruby
Red
August
Peridot
Light Green
September
Sapphire
Deep Blue
October
Opal or Tourmaline
Multicolor
November
Topaz or Citrine
Yellow
December
Turquoise, Blue Topaz
or Tanzanite
Blue

Birthstones by Zodiac Sign

| | | |
| --- | --- | --- |
| Zodiac Sign | Birthstone | Color |
| Capricorn | Ruby | Red |
| Aquarius | Garnet | Dark Red |
| Pisces | Amethyst | Purple |
| Aries | Bloodstone | Multicolor |
| Taurus | Sapphire | Deep Blue |
| Gemini | Agate | Multicolor |
| Cancer | Emerald | Deep Green |
| Leo | Onyx | Black |
| Virgo | Carnelian | Reddish |
| Libra | Peridot | Light Green |
| Scorpio | Beryl | Multicolor |
| Sagittarius | Topaz | Blue |
Learn More About Birthstones
Find details about the birth stone for each month: January, February, March, April, May, June, July, August, September, October, November and December
Save on Birthstone Jewelry
If you want to buy birthstone jewelry, or other fine jewelry and watches, why not get a great deal? You can do it by browsing the jewelry store coupons we offer on 4JewelryCoupons.com. We offer online coupons, promotion codes and special sales for the leading online jewelers so that you can uncover awesome bargains.